HPE ProLiant DL180 Gen10 Review
The HPE ProLiant DL180 is an entry-level enterprise server designed for SMB and service providers. Like the smaller DL160 model, this server is ideal for those who need the pedigree and quality of a server from a company like HPE, but you don't necessarily need all the features and capabilities of larger solutions (i.e., more extensive integrations with different technologies and better support for CPUs and RAM). For example, you might want to set up a file server for a small office where you need a lot of data available 24/7 but you don't necessarily need high-end performance.

That said, the HPE ProLiant DL180 is powered by dual Intel Xeon Scalable 3200-8200 and 3100-4100 series processors, which features models up to 24 cores, and can be outfitted with upwards of 1.0 TB of DDR4 RAM. It is also a 2U server, so it can to be configured in a variety of different ways (vs. the DL160, which is more limited due to its 1U build). For example, you populate it with 12 large form-factor drives and there are options in the back to bring to total to 26 x 2.5-inch drives inside the DL180. The build we were shipped included two 7k 2TB HDDs.
Even though the DL180 is certainly a value-based system available to users, HPE still makes all of their software tools and management portfolio available (like ILO and InfoSight for servers). This system starts roughly around $1,000, but you still have all capabilities of the larger servers from the ProLiant line.
Our video review is here:
Our build includes an Intel Xeon 3206 CPU and 8 x 16TB Seagate IronWolf Pro HDDs.
HPE ProLiant DL180 Gen10 Specifications
| | |
| --- | --- |
| Processor Type | Intel |
| Processor Family | Intel Xeon Scalable 3200-8200 series & Intel Xeon Scalable 3100-4100 series |
| Processor Core Available | 4 to 24 core, depending on processor |
| Processor Cache Installed | 8.25-35.75 MB L3, depending on processor |
| Maximum Memory | 1.0 TB with 64 GB DDR4 |
| Memory Slots | 16 DIMM slots |
| Memory Type | HPE DDR4 SmartMemory |
| NVDIMM Type | None |
| Drive Supported | 8-24 SFF SAS/SATA HDD/SSD, 8-12 LFF SAS/SATA HDD/SSD, optional rear 2SFF SAS/SATA HDD/SSD depending on model |
| Network Controller | HPE embedded 2-port 1 GbE Ethernet adapter and optional HPE FlexibleLOM, Media Module Adapter, or PCIe stand-up card |
| Remote Management Software | PE iLO Standard with Intelligent Provisioning (embedded), HPE OneView Standard (requires download), Optional- HPE iLO Advanced, and HPE OneView Advanced (require licenses) |
| System Fan Features | Standard single rotor hot swap fans |
| Power Supply Type | Up to 2 HPE Flexible Slot Power Supplies |
| Expansion Slots | 6 |
| Storage Controller | HPE Smart Array S100i and/or 1 HPE Essential or Performance RAID controller, depending on model |
| Processor | Processor Name: Intel Processor Number: 1 or 2 Processor Speed: 3.8 GHz maximum depending on processor |
| Standard Memory | 16GB (1 X 16 GB) RDIMM |
| Hard Drive Number (included) | None ship standard, 8-12 LFF drives and 8-24 SFF drives supported, optional rear 2SFF drives |
| Optical Drive Type | Optional: DVD-ROM or DVD-RW |
| Security | Optional locking Bezel Kit, Intrusion Detection Kit, or HPE TPM 2.0 |
| Form Factor | 2U |
| Size and weight | Weight: 28.0 lb minimum, 58.0 lb maximum Product Dimensions: 3.44 x 17.54 x 24.99 in |
| Warranty Standard Statement | 3/3/3 Server Warranty includes 3-Year Parts, 3-Year Labor, 3-Year Onsite support with next business day response. Additional HPE support and service coverage for your product can be purchased locally. |
HPE ProLiant DL180 Design and build
Overall, this is a very similar build to other ProLiant servers. On the front panel, it has all the storage bays, which can look different depending on what your configuration is. For us, we have eight 3.5-inch bays stacked horizontally. On the left side is a pull handle while the right includes a slot for an optical drive, a port for ILO management, and a USB port.

Turning the server around, it reveals that we are dealing with just a single 500W power supply, just like the DL160. It can be easily pulled out with the small lever if you need to swap it out for any reason. The black slot for another PSU is right next to it. On the left are the network ports, a VGA port, iLO port, USB (for keyboard and mouse), PCIe expansion slots, and one riser.
To pop the lid open, simply pull the lever on the top and slide it off. Because this is a 2U server, we have a bit more room to manage the components. So, one of the things HPE added is a transparent shroud to control airflow, which covers the area where the fans, CPU and RAM are located.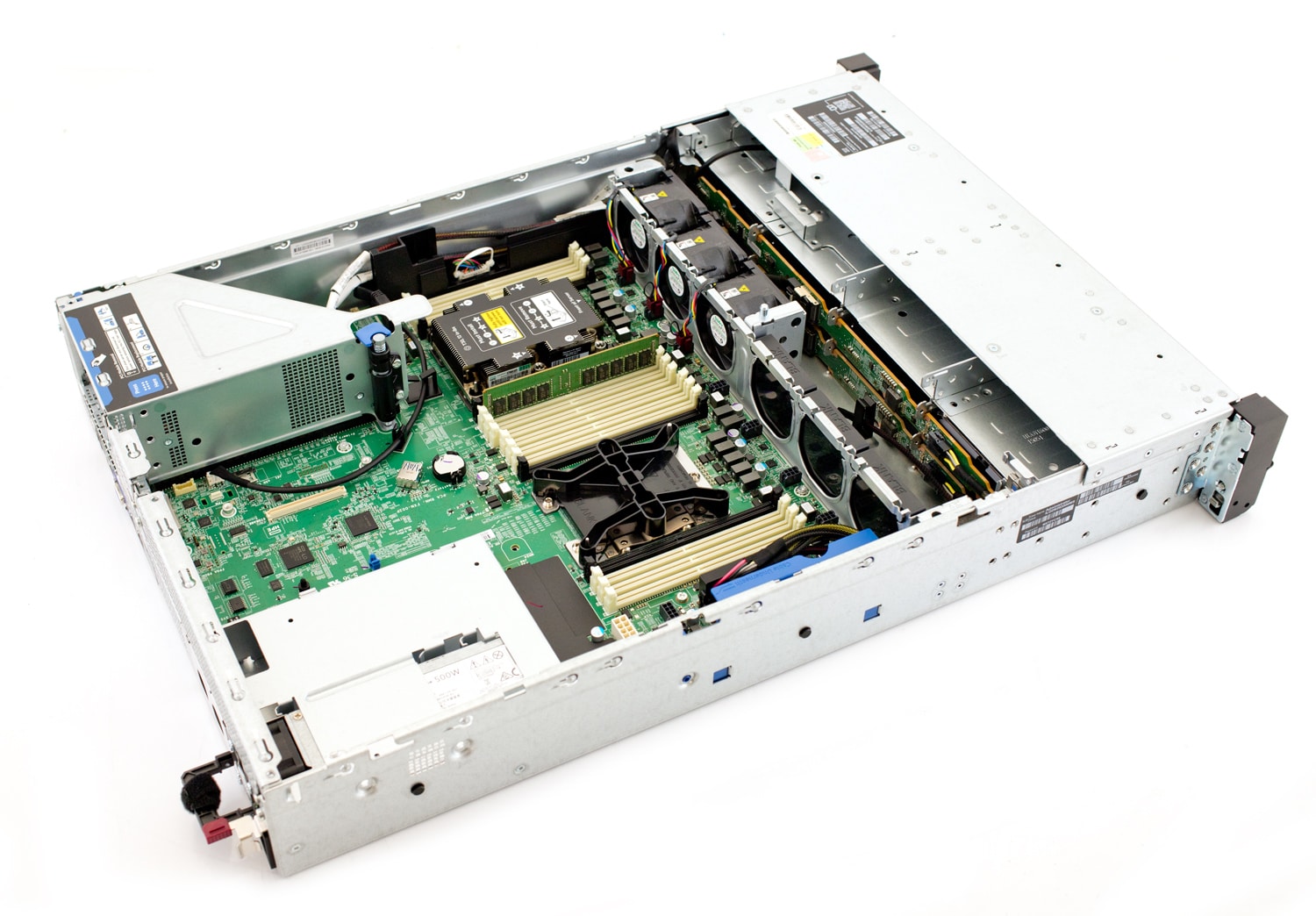 One we removed the shroud (which can be simply be lifted), we can see the SATA backplanes at the front. Next to this, we have small fans that are slightly bigger than those in the DL160; they are connected on-board and can be easily remove/installed. Along the side is a blue holder, which would house the battery backup if we had a RAID card installed (we don't currently have one inside, so we will be using HPE's software RAID).  Next are the 16 DIMM slots that run along the center of the board. You'll be able to access eight per CPU installed. In between the RAM are the two CPU slots.
Along the back reside the single power supply and a slot the other, which is next to the on-board ILO chip. To the right is the single riser with three PCIe expansion slots (the second one would reside right next to it if we have dual CPUs).
Management
The HPE ProLiant DL190 Gen10 leverages Integrated Lights-Out (iLO) 5 for management. We've done a fairly in depth look at iLO 5 that can be found here. Below are a few points on how it would look on the DL180.
Under the main Information tab there are several sub-tabs including Overview (viewed here), Security Dashboard, Session List, iLO Event Log, and Integrated Management Log. As the name implies, the Overview tab give general information about the system. It also gives users a quick glance at health and security of the system.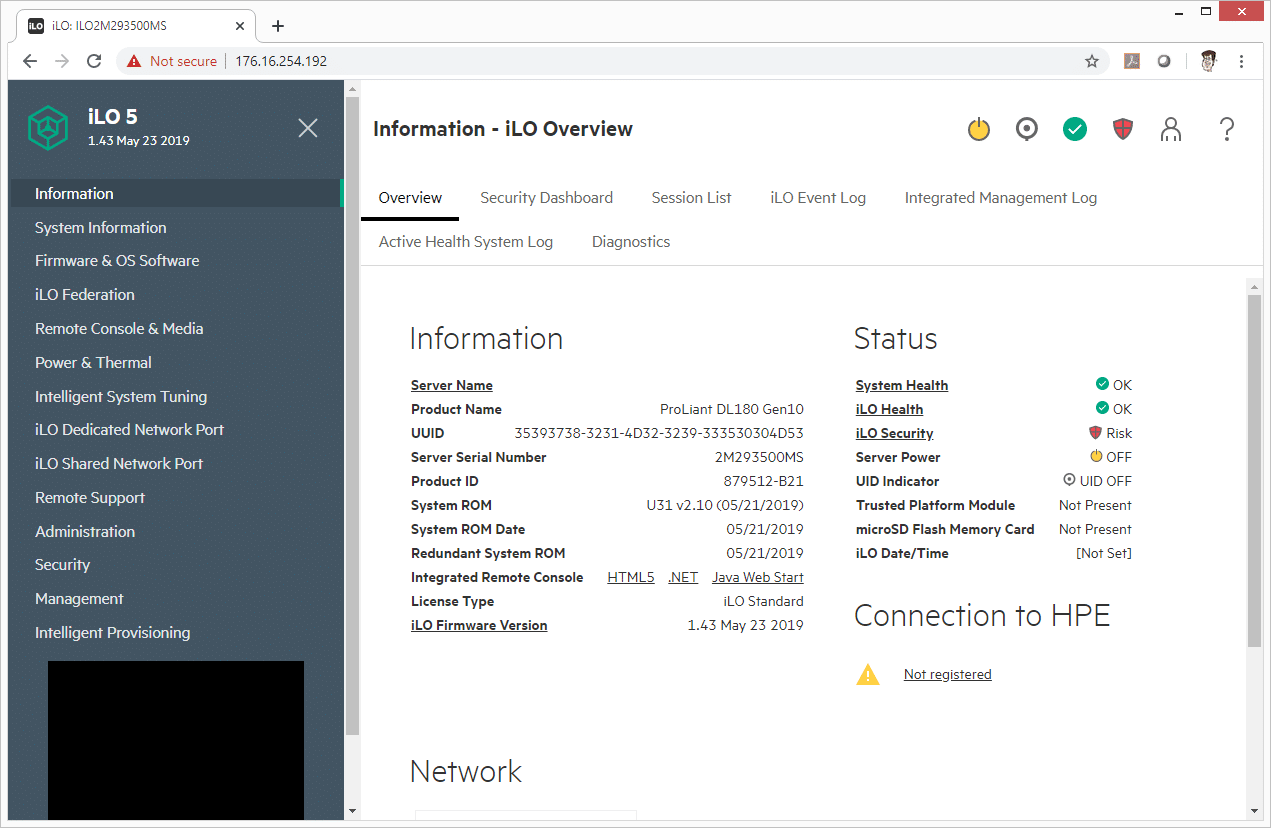 Under the Firmware & OS Software tab there are sub-tabs such as Firmware, Software, Maintenance Windows, and iLO Repository. Drilling into the Firmware sub-tab, user can see the firmware, whether it is up to date, and it can be updated here.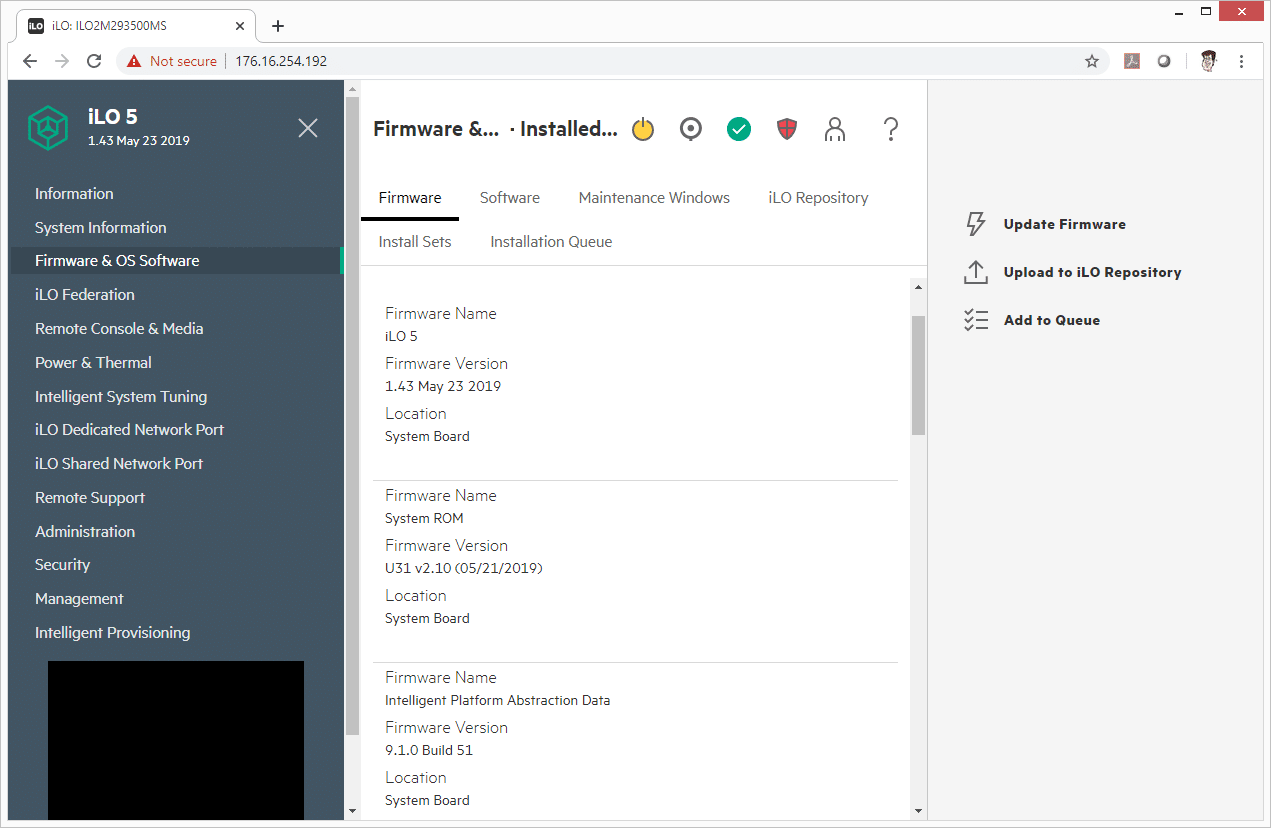 The Remote Console & Media tab has the following sub-tabs: Launch, Virtual Media, Hot Keys, and Security. The Launch sub-tab lets users launch .NET IRC in either .NET or HTML5.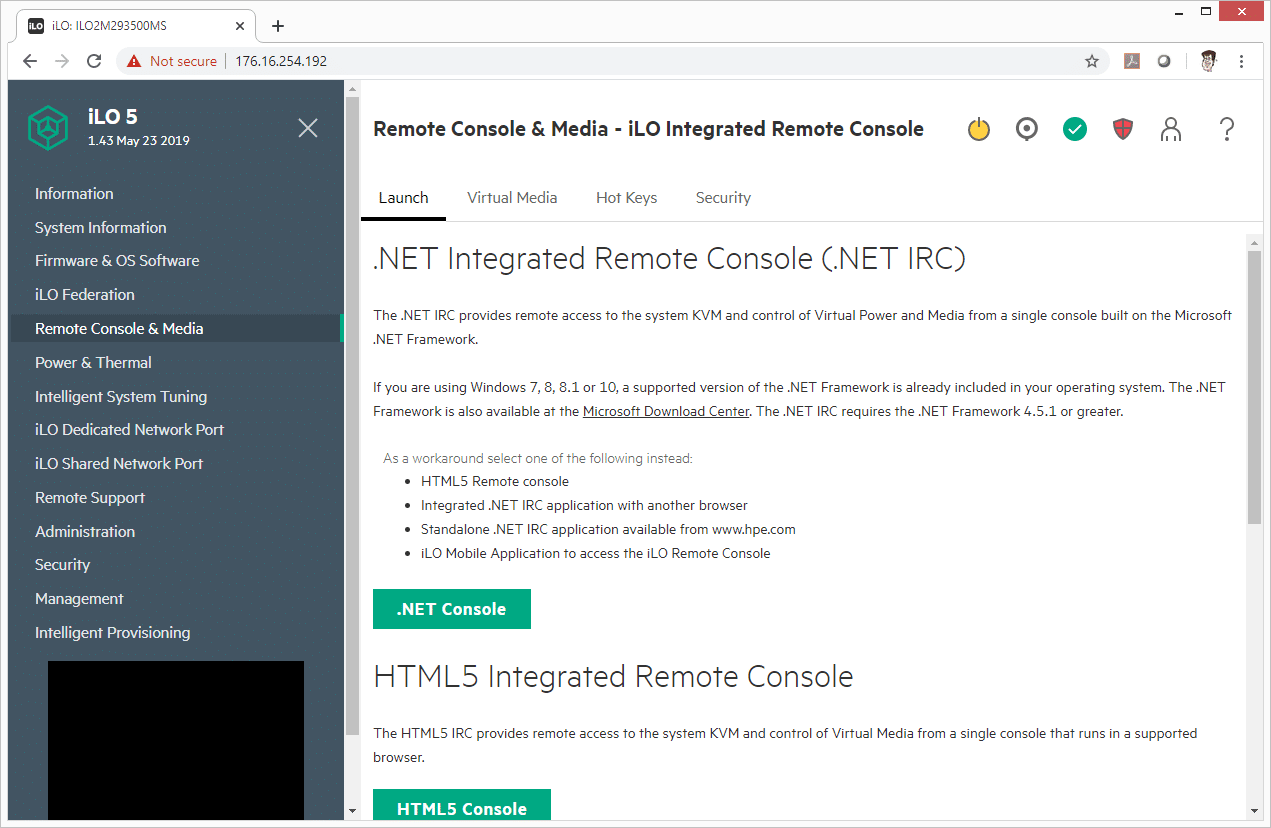 HPE ProLiant DL180 Performance
For measuring the synthetic performance of the DL180 server, we outfitted the 3.5″ bays with eight Seagate 16TB IronWolf Pro HDDs which we tested in JBOD.
VDBench Workload Analysis
When it comes to benchmarking storage arrays, application testing is best, and synthetic testing comes in second place. While not a perfect representation of actual workloads, synthetic tests do help to baseline storage devices with a repeatability factor that makes it easy to do apples-to-apples comparison between competing solutions. These workloads offer a range of different testing profiles ranging from "four corners" tests, common database transfer size tests, as well as trace captures from different VDI environments. All of these tests leverage the common vdBench workload generator, with a scripting engine to automate and capture results over a large compute testing cluster. This allows us to repeat the same workloads across a wide range of storage devices, including flash arrays and individual storage devices.
Profiles:
4K Random Read: 100% Read, 128 threads, 0-120% iorate
4K Random Write: 100% Write, 64 threads, 0-120% iorate
1024K Sequential Read: 100% Read, 16 threads, 0-120% iorate
1024K Sequential Write: 100% Write, 8 threads, 0-120% iorate
As we only tested HDDs, we didn't run our normal full spectrum of benchmarks.
With random 4K read, the HPE ProLiant DL180 Gen10 started at 609 IOPS at 6,823µs latency while peaking at 4,364 IOPS at a latency of 25.8ms.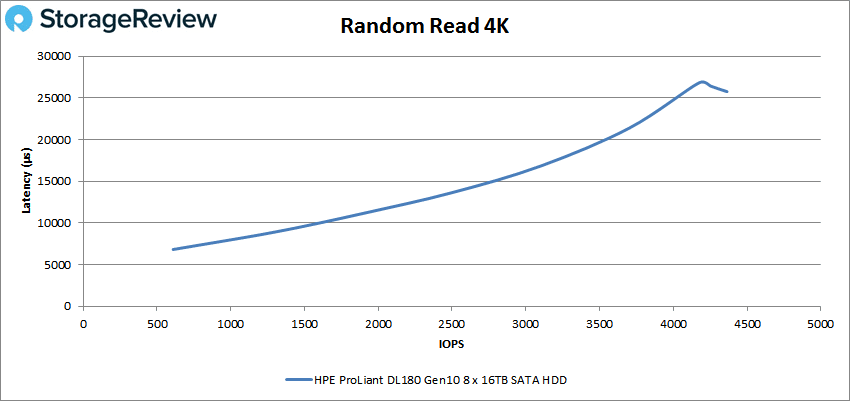 For random 4K write, the DL180 peaked at 3,278 IOPS with a latency of 35ms.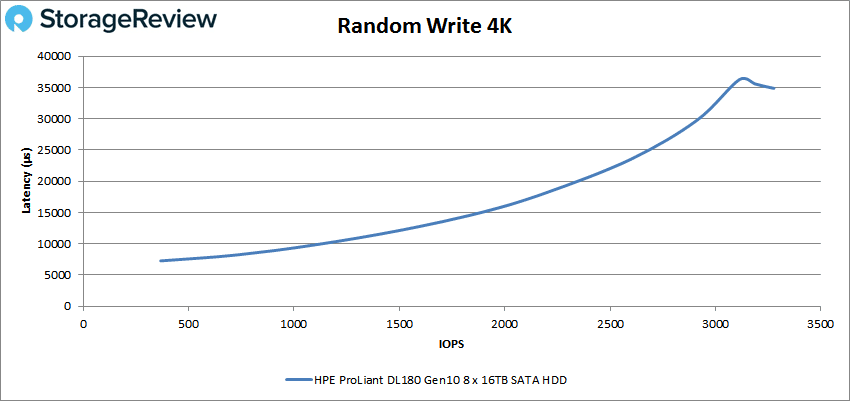 Switching over to sequential performance and starting with our 1024K read, the DL180 peaked at about 1.1GB/s at 52ms.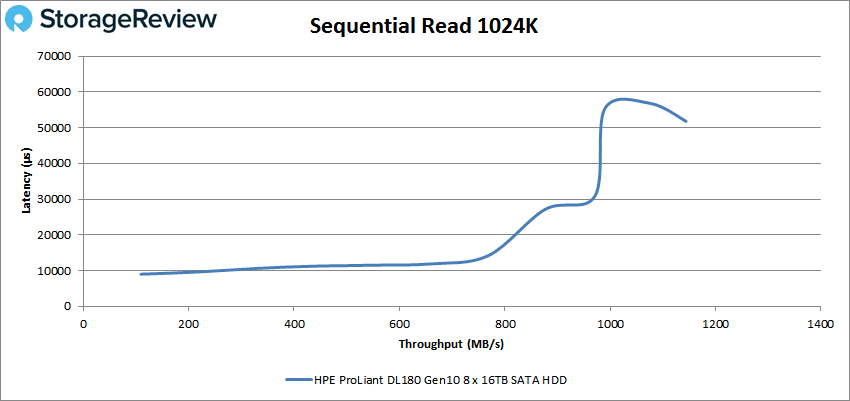 For 1024K write, the DL180 showed a peak of 821MB/s (with a tiny spike at the end) with a latency of 73.8ms.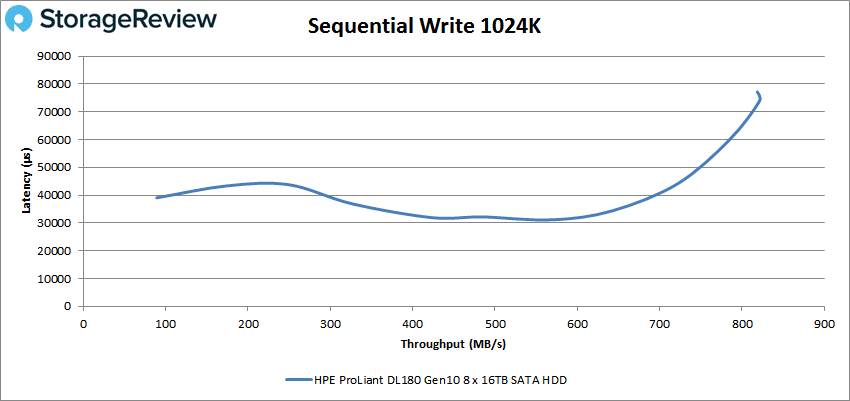 Conclusion
Those who might not want to spend four or five thousand dollars on a server when you have a small office will find a lot to like with the HPE ProLiant DL180: you don't need the top performance, but you have all the enterprise management features, 24/7 data availability and the pedigree of an HPE server. All at a low cost. Though you can certainly up the price significantly if you outfit the server with the high-end CPUs (a range of Xeon processors), install the optional components or fill out all the RAM slots (maximum of 16 x 64GB LRDIMM), the base model of the DL180 is a fantastic way to add server data management to smaller businesses.
To test its performance goes, we put the entry-level Gen10 server through our VDBench workloads using a configuration of 8 x 16TB Seagate IronWolf Pro HDDs, so performance will yield noticeably different results than using an SSD configuration (like we used with the DL160). Here, the 2U server showed peaks of 4,364 IOPS in 4K read, 3,278 IOPS in 4K write, 1.1GB/s in 1024K read, and 821MB/s in 1024K write.
Overall, the HPE DL180 is a solid entry-level enterprise server for SMB and service providers looking for the versatility a 2U form factor brings, while still getting the light-enterprise features HPE offers.